At Natural Stone Installers we understand the importance of the final finish. The quality of our skilled fitters ensure your bespoke stone installation and stone tiling is completed on time and to budget.
Manufacturing in house allows us complete control. And we offer undeniably the best service when it comes to your stone installation. All projects are under taken with the client in mind. Furthermore the skill and knowledge of our stone masons and their attention to detail is essential in achieving consistency and finish.
The added value we offer as a company is our knowledge and experience. We are able to offer the best possible advise in relation to the substrate, choice of materials, tanking and stone tiling. Working together eliminates problems and allows projects to be completed on time and too budget.
Preparation
We all too often see the most beautiful stone destroyed due to poor craftsmanship and bad installation, as a result of a poor substrate you can have problems in the future. We advise the use of Marmox Multiboard and Hardie Board as a substrate, not only is it waterproof but it provides a sound surface for stone installation.
Our team will will install all elements ensuring tanking is carried out in wet areas. Mapei offer one of the best waterproofing systems on the market with Mapei Aqua Defence and Mapeiband.
Whatever your specific requirements, however demanding your project our team of experienced designers and natural stone experts can deliver a bespoke solution.
Stone installation
Cutting natural stone slabs to size and installing them is very demanding. Quality is essential and it is therefore very important to have the correct tooling and experienced fitters. Large format slab work can change the look of a floor or wall installation. Many of our projects have involved installing slabs over 2m long which in itself is very challenging.
Our team are here to help from design to implementation. Taking care of drawings, technical specs, logistics and the stone installation. We can supply RAMS and technical data sheets, and our supply chain can help with BREAM.
Bespoke installation
We are able to undertake any size project and are very strong in commercial bathroom fit-outs. Manufacturing and installing reception desks and bespoke wall cladding for front of house refurbishments. Fitting vanity tops and commercial troughs on a large scale are all achieved by our commercial contracts department.
Kitchen Worktop installation
Templated on site with the utmost accuracy, manufactured in house on CNC machinery and installed by highly skilled stonemasons who understand the importance of service and the quality that is required of them. Residential and commercial projects undertaken.
Our work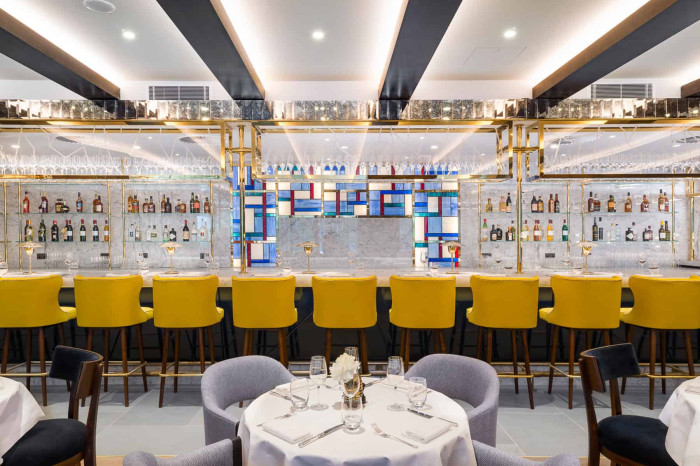 We have gained an enviable reputation working with clients such as Sir Robert McAlpine, Capco and Grangewood. From private bespoke installations to complete office and apartment fit-outs. An example of our most recent work is a £1.5 million contract with Sir Robert McAlpine renovating 40 apartments and Penthouses in Covent Garden.