Stone restoration
Natural Stone Installers work alongside some of London's most established companies and specialise in stone cleaning and natural stone restoration. Some of our past works have been to very tight deadlines; repairing and restoring the terrazzo flooring at Selfridges and the Natural History Museum. This work also included stone restoration and polishing of 100 year old marble wall panels and bringing them back to life.
The restoration and polishing of marble, limestone, granite and other natural stones is one of our areas of expertise. Our experienced masons use modern techniques to achieve a finish that is second to none. Restoring old stone to its original finish can be easily achieved using the correct techniques and machinery.
DOFF Cleaning
The DOFF system should not be confused with other similar "hot water" systems. DOFF provides 'superheated' water (up to 150°C if necessary) that exits the nozzle as steam.
The system uses a normal water supply which is taken into the high pressure pump unit. This pressure is then increased to the required level before entering the Hotbox. The desired pressure can be variably adjusted by the operator and is independent of temperature settings. It then passes through a heat resistant nozzle and onto the surface to be cleaned. This system is a sympathetic method of natural stone restoration and does not damage the stone.
Floor Polishing
Bringing old floors back to life is a cost saving exercise that can safe thousands of pounds compared to installing new floors. Polishing the top layer of stone or deep cleaning are both effective in restoring floors. Our trained mason's and polishers can restore your natural stone back to its original honed or polished finish.
What we do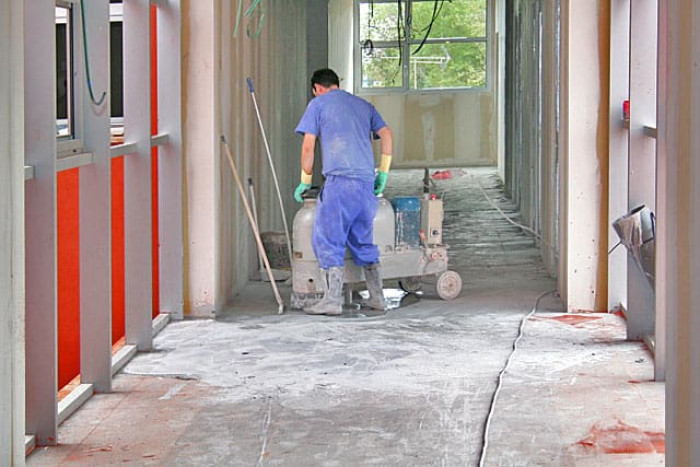 We offer the following services: –
Restoration – where we will bring an old floor or walls back to life by sympathetically replacing damaged tiles, cleaning the stone and re-polishing it. We have worked on the restoration of some parts of Selfridges communal areas to bring back to life 100 year old marble and terrazzo. New stone was aged to match existing materials and intricate stone work was produced to bring new areas into line with old corridors.
Polishing – this is where we will bring a floor back to its original finish be it honed or polished. Polishing powders are used to remove small scratches in the stones surface bringing the floor back to its desired finish. This is our most popular procedure.
Crystallisation – this is a method where the floor is polished using a special chemical treatment to make the floor more durable and less porous. Also known as Vitrification, this method has a detrimental effect to the stone in the long term and requires regular polishing to keep the benefits of crystallisation. In the short term a very high finish is achieved but this will wear and need replacing.
Commercial floor polishing – we work with commercial contractors to apply a final finish to a commercial flooring. This will normally entail working closely on site to remove the lips from the tiled floor and polishing the floor to achieve the desired final finish. Test areas are performed prior to starting the job to get a final sign of by the architect. On a lot of contracts out of hours work is required to meet tight deadlines.
DOFF Steam Cleaning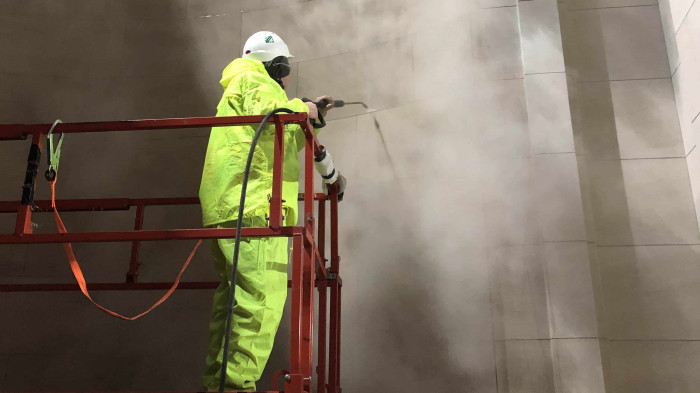 The extremely popular DOFF system is a tried and tested cleaning solution that removes ingrained dirt and soiling using high temperature, low pressure steam to remove the ingress.
Working with this system allows us to deep clean faces and floors that have been badly soiled over the years, combined with traditional poultices we can bring old stone bak to life.
Call 01322 387 315 if you would like to know more about the DOFF system.
Stone Floor polishing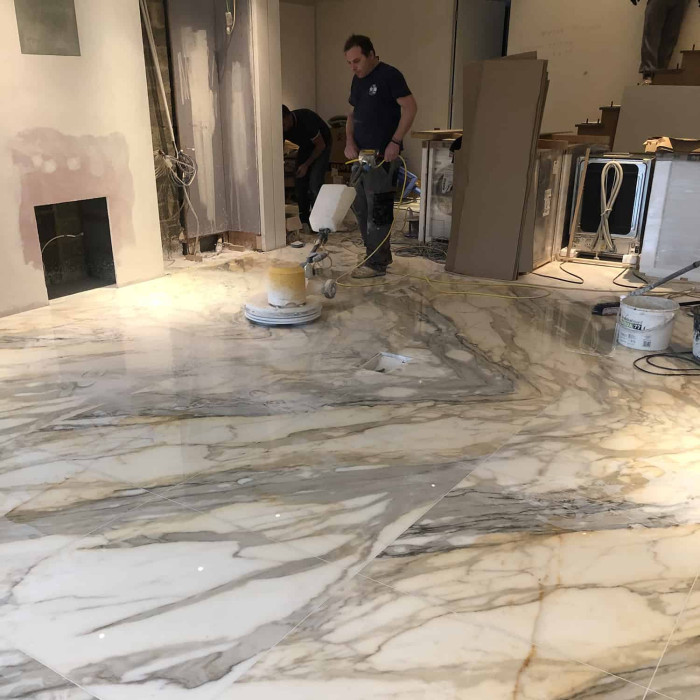 Using a rotary floor polisher we polish the floor to remove all the irregularities in the stone and achieved a beautiful honed floor. The finish can be brought upto a polish depending on our clients requirements. This method of natural stone restoration is a positive way to  bring stone back to its original condition.