Bespoke stone work covers a wide variety of areas within our business and our aim is to advise and help you make the right choice of stone for your specific project.
Our bespoke service entails all areas of natural stone. We start by listening to your requirements; from here we can offer advice and give you guidance towards choosing the right material and the correct way to install the stone in your project.
We will be pleased to supply cut to size stone to fit the needs of your design, this may be tiles cut to your exact size or full size slabs that can be used as wall and floor coverings. We can also produce rough sawn blocks, random slabs, and source unusual materials and pieces of stone art.
Listening to your needs, we will work together with scheduling and help with the technical restrictions of your project; we will also focus on suitable stones and therefore, select for you the most suitable materials available. With our extensive network of natural stone partners, we are able to provide knowledge and 'know-how' on all architectural projects.
Typical examples of the work we do is as follows: –
Cut to size tiles and slabs
Stone baths and basins
Bath surrounds and bath panels
Vanity tops and stone shelves
Kitchen worktops
Fireplaces
Below is an example of the sort of work we produce. Our client needed us to produce stone slabs with water jet cut outs so that backlit glass panels could be flush mounted when the stone was installed as a feature wall.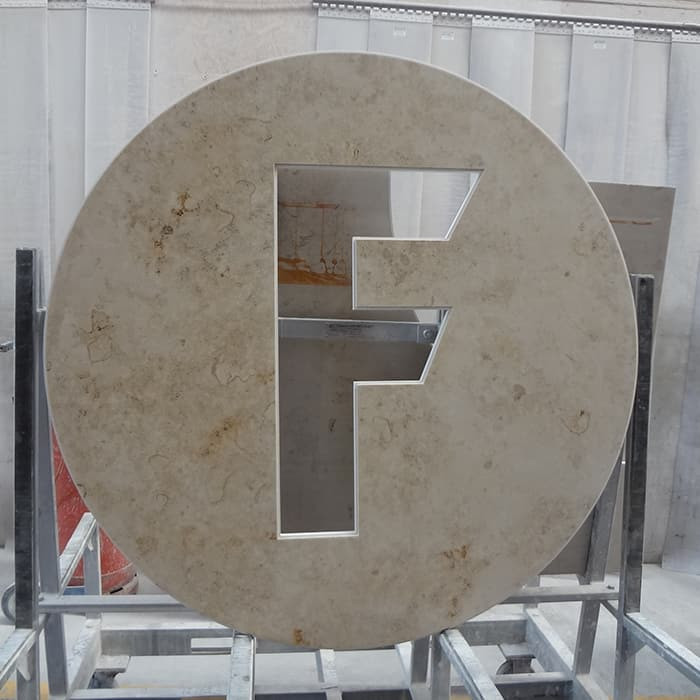 Foxtons – This bespoke piece of Jura limestone has been cut for our client by water jet, and will be finished with a backlit glass infill.